School Cents at Arden Fair
Now through April 30, 2019
---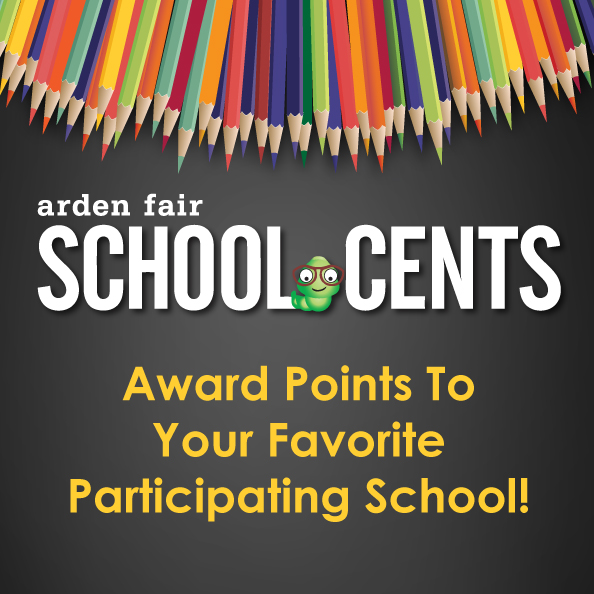 Arden Fair wants to help you earn cash for local schools. It's easy! Shop Arden Fair, turn in your original receipts at a Drop Box location* OR online (link below) and earn points to help your favorite school win CASH prizes! Your school will earn five (5) points for each dollar spent at any Arden Fair store or restaurant. Every school is a winner!
How To Turn In Your Receipts:
Option 1: Submit your receipts online! Simply write "VOID" on your receipt, visit MarketingGuru.com/Receipts, click on School Cents and complete the form to upload. View Tutorial Video Here.
Option 2: *Drop off your original receipts in the envelopes provided at the School Cents Drop Box, located in 2 areas:the Arden Fair Management Office (located on the exterior between Macy's and Starbucks facing Arden Way), and inside the mall, in front of White House Black Market (ground floor).
Receipts must be turned in within 90 days of purchase
Receipts must be dated between August 1, 2018 and April 30, 2019
School Cents Program Rules:
Schools must have a minimum of 40,000 points by January 31, 2019 to remain in the second half of the program and a minimum of 100,000 points by April 30, 2019 to receive a final award.
School Cents is not a receipt drive! It is based on actual dollars spent at Arden Fair by personal visits of supporters of participating schools.
Store employees may not be used to collect receipts for participating schools.
Receipts will not be accepted before August 1, 2018 or after April 30, 2019.
Receipts must be redeemed within 90 days of purchase date.
Schools in violation of program rules may be subject to removal from the School Cents program.
Schools must be present at the final award ceremony to receive their award.
If you have any questions, please call the School Cents Coordinators at (800) 762-1641.
PARTICIPATING SCHOOLS FOR 2018-2019
February Points:
William Land Elementary: 442,675
Language Academy of Sacramento: 428,715
David Lubin Elementary: 272,245
O.W. Erlewine Elementary: 241,670
Westlake Charter: 182,555
California Montessori Project: 171,805
Merryhill Midtown: 163,570
Martin Luther King Jr. School: 161,445
Phoebe A. Hearst Elementary: 155,895
Gateway International School: 137,915
Natomas Charter School: 135,735
Main Avenue Elementary: 105,200
Sutterville Elementary: 83,770
Parkway Elementary: 82,865
Leonardo da Vinci K-8 School: 82,745
Zehnder Ranch Elementary: 73,180
A.M. Winn Elementary: 68,650
Sutter Middle School: 55,745
Bridgeway Island Elementary: 53,175
Arden Fair Kids Club
Now through December 31, 2019
You are invited to join us once a month for fun and exciting Kids Club events! Each child who signs ...
Party at Claire's
Now through December 31, 2019 | claire's
Ready to celebrate? Book your party in-store and we'll make it Sparkle! Guest of honor receives a f...