Inside Track - Mall Walker Wellness Program
---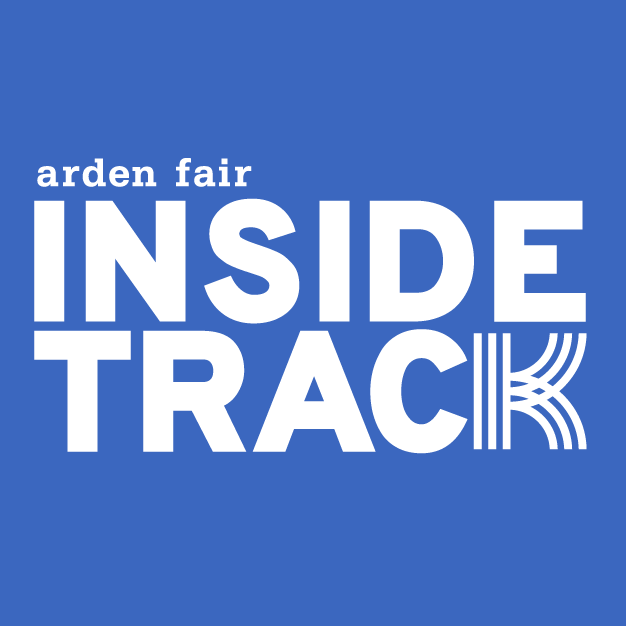 Arden Fair is excited to announce the relaunch of our wellness program, Inside Track! The program is back and we're shifting our focus to promote the whole person!
2024 events will be announced later this year. Check back for more details!
Past Events
Mindful Movement
Join our Inside Track community and hosts Kirsten Johnson and Meagan Morgan for energizing light treats and healthy exercises for your mind and body. Mindful Movement will include gentle seated yoga work led by host Kirsten Johnson with an accompanying "Mindful Moment" led by Megan Morgan. The "mindful movement" yoga is specifically designed to be inclusive of all body types and will involve light breathwork. The "mindful moment" will share information on the benefits of mindfulness, breathing techniques, and other useful tips.
Sowing Seeds of Growth
Sowing Seeds of Growth will be a herbal plant informational conversation and demonstration led by Tonisha Barnes. Tonisha will educate members on the specific plant's history in healing and wellness. Each member will receive a take home herbal plant kit.
Massage Techniques
Don't miss the final Inside Track event of 2023, hosted by Kirsten Johnson, featuring special guest Mia Moore, a wellness practitioner specializing in acupuncture, massage, and traditional Chinese medicine. Join us for refreshments, walking meditation, and an enlightening session on self-care tools and massage techniques suitable for use at home or work, and for people of all ages and abilities.

What is Inside Track?
Inside Track is Arden Fair's indoor walking program. This no cost all-inclusive program encourages people from all ages and walks of life to be more active and well together. The program promotes physical movement, community building, and a happy and healthy lifestyle. Members will get exclusive year-round access to enter and walk inside Arden Fair seven days a week from 7am to 7pm. Click on the flyer at the bottom of this page for a map of Arden Fair.

Why join Inside Track?
1) Reliable convenience: enjoy weather-proof walks, reenergize with a quick snack afterward or take care of that shopping list while you're here.
2) A calm & peaceful start to your day: members can enjoy the tranquility of Arden Fair's well-lit, quiet, and open spaces. Regardless of seasonal changes and conditions, members can feel assured they will always have a comfortable, temperature-controlled indoor environment to get their steps in for the day.
3) Accessibility: Arden Fair is a free space where guests can exercise, interact, and walk without barriers like uneven terrain, stairs, or hills.
4) Community: meet fellow Inside Track members and find your next walking buddy at our events!
5) No Pressure: walk at your own pace. Inside Track is designed for all ages and levels of fitness. Walk with other members, or walk solo, filling out your mileage card to tally your miles walked.
6) Prizes: dedication to health doesn't go unseen! Once participants hit specific walking milestones, a prize can be collected at any of our events.
How does Inside Track work?
1) Start by registering for free at ardenfair.com/insidetrack
2) Pick up a mileage card from the Inside Track box, located on the mural near the mall entrance by Champs on the lower level.
3) When you get done walking for the day, fill out the mileage card. Click on the flyer at the bottom of this page for a map of Arden Fair.
4) When you've completely filled out a mileage card, drop it in the Inside Track box.
5) Grab a new card.
6) Pick up prizes you've earned for miles walked at the next Inside Track event.
What are the prizes?
Once you've walked 100 miles, you get a handy Inside Track quick dry towel.
At 250 miles you get a stylish Inside Track baseball cap.
At 500 miles you get an official Inside Track stainless steel water bottle.
At 1000 miles you get a $50 gift card to a store of your choice at Arden Fair.
1000 miles seem like a lot of miles to walk!?! Not really; the average person can walk 3 miles per hour, so if you walked just 1 hour each day you'd walk over 1000 miles in just 1 year!
Interested in joining?
Join our health movement and be part of our growing community! Whether you're starting out on your wellness journey, an active guru, or someone who is looking to consistently get your steps in, Inside Track is for you!

Want to join? Registration today at ardenfair.com/insidetrack.