Ongoing
|

Center Stage (Near See's Candies)
---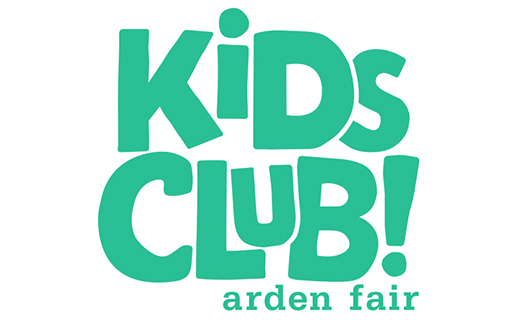 Join us every third Saturday of the month (January-October) for fun and exciting youth-centric experiences, plus a special event on the second Saturday of November!
Where: Lower Level near See's Candies
When: Third Saturday of the month (January-October) at 10am
Kids Club is a free monthly event open to the public. No reservation or sign up needed.
While Kids Club events are designed for children ages 3-10, we encourage children of any age to attend.
Calendar of Events:
January 21st: Storytime
February 18th: Dancing
March 18th: Sing-along
April 15th: Puppet show
May 20th: Storytime
June 17th: Sing-along
July 15th: Yoga
August 19th: Storytime
September 16th: Sing-along
October 21: Magic show
November 11th: PJ Party with Santa at 9:30am

June 17th
Get ready to sing, dance and have a blast at Kids Club in Arden Fair! Join us for an exciting musical experience that will have your little ones movin' and groovin'. Led by our talented special guest Katie Fry (Miss Katie), this sing-along is perfect for children of all ages and is sure to foster your child's growing love of music.

When: June 17
Time: 10am
Where: Lower level by See's Candies and the Blooming Wall

Kids Club Host:
Jillian Hall | Traveling Mermaid Entertainment | IG:@travelingmermaident
Miss Jill has been entertaining children and families in the Sacramento area for nearly 10 years. Born and raised in Sacramento county, she has a BA in Child Development with an emphasis in early development, care, and education from CSU Sacramento. When she is not teaching preschool, she spends much of her time as a party entertainer with many talents -- from fire dancing to mermaiding. Her favorite thing to do is be creative by singing songs, telling stories, and even painting faces. With Miss Jill you will enjoy a fun and engaging show that children and families will be talking about for years to come!
Our Special Guest:
Katie Fry is a singer-songwriter and multi-instrumentalist with an Alt-Country-Pop inspired Folk sound. She writes songs about love, friendship, struggle and hope. In addition to performing her own original music, Katie is a graduate of the Music For Healing And Transition Program, working as a Certified Music Practitioner at her local hospital to provide therapeutic bedside music to patients of all ages. She plays a 34 string folk harp, specializing in singing songs from the 1920s-1950s for individuals living with dementia.
JCPenney June Kids Zone Event
June 10, 2023 11:00 AM - 12:00 PM | JCPenney
During the June Kids Zone event on Saturday, June 10th starting at 11am, kids will make a special Fa...