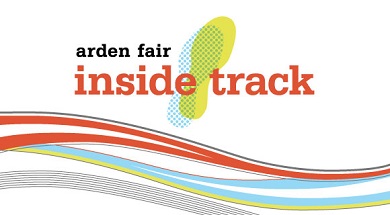 Inside Track
Now through December 31, 2018
In an ongoing effort to make Arden Fair your favorite shopping destination, we are pleased to bring you the Inside Track Club!
You can join the program by signing up during regular mall hours at Guest Services on the lower level near JCPenney.

No Pressure.
Go at your own pace. Inside Track is designed for all ages and levels of fitness. There's never any pressure to compete, so you are free to cover as many miles as you like, stopping whenever you want to rest, window shop, or socialize. Walk with other club members, or go solo, filling out your mileage card to tally your miles walked.

How Do I Get a Mileage Card and Where Do I Turn Them In?
Mileage cards can be found at Guest Services or near the Inside Track bulletin board on the lower level near Sears. You may also turn your completed cards in at Guest Services or the drop box near the bulletin board.

How Far is One-Mile?
One-Mile is equal to about 2 laps around the lower level of the shopping center.

What Does it Mean to be a Member?
Membership in the Inside Track program is an optional benefit designed to reward you for walking. Inside Track offers you the convenience of walking in a safe, climate-controlled environment year round while earning valuable rewards.

What Kind of Benefits?
Inside Track members receive a quarterly newsletter with healthy tips and tricks, and an invitation to join us for a quarterly breakfast inside the Arden Fair food court. The breakfast will feature on-site health screenings and a guest speaker to discuss health related issues. Milestone prizes are distributed upon check-in at the Inside Track Quarterly Breakfast.

When Can I Walk?
You can walk any day, any time after 7am Monday through Saturday and after 8am on Sunday.

What Kind of Prizes Can I win?
Inside Track members who log their miles and turn in their cards will receive the following.**

Sign up - Pedometer
100 Miles - Lanyard for Keys
500 Miles - Sweat Band
1,000 Miles - Drawstring Bag
2,000 Miles - Exercise Band
3,000 Miles - Long Sleeve T-Shirt
5,000 Miles - $50 Arden Fair Gift Card

**Milestone prizes are subject to change, but the mileage prize value will remain the same. We reserve the right to substitute gifts of equal or greater value.

More Questions?
Give us a call at 916-514-4100.