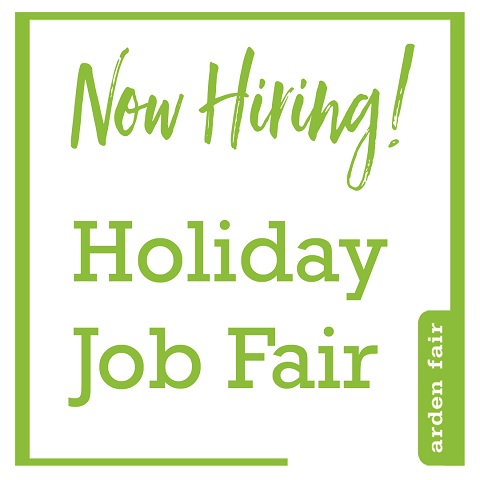 Holiday Job Fair
September 20, 2017 7:00 AM - 10:00 AM
Join the team at one of these Arden Fair retailers for the 2017 Holiday season.
The Holiday Job Fair will take place on Wednesday, September 20, 2017 from 7am to 10am in Center Court.
Please come prepared with your resume.
Ann Taylor
Requirements: Provides excellent client service and exceeds expectations. Interacts and builds relationships with clients, creates client loyalty and has the ability to multi-task while servicing internal and external clients. Communicates effectively with store management, store team and clients. Ability to function as a role model, ensuring that the client remains the top priority.
Cellairis
Requirements: Sales experience and iphone and Samsung screen replacement experience.
Janie & Jack
Sales Lead Position:
The sales lead is responsible for supporting the management team in achieving store financial goals by demonstrating selling behaviors and floor leadership, promoting a positive work environment and executing operational processes and objectives in compliance with company standards and policies.

Sales Associate Position:
The sales associate supports the management team in achieving financial goals and promoting a positive work environment. This is accomplished through demonstrating selling behaviors, meeting customer service standards and completing register procedures for customer transactions. Additionally, the sales associate assists management in maintaining store presentation and completing operational tasks.
M.A.C. Cosmetics
Must bring Social Security Card and valid ID to interview.
Shoe Palace
Job Description: Greet and assist customers. Shipment, selling, customer service, inventory and merchandise.